Description
Whether you are on security detail, prepping for an outdoor trek, or spending a day at the gun range, you need a pair of tactical pants that are comfortable, durable, and hold all the essentials without sagging or wearing you down. The G3 Combat Pant with Knee Pads Rip-Stop Tactical Pant is created for tactical men pants with kinetic, law enforcement, outdoorsman, and rugged adventurers in mind.
G3 Combat Pants with Knee Pads come with a set of removable combat knee pads, when not using knee pads, just install the Built-in flap covers kneecap. The unique low-profile waist adjusts system and knee pad height adjustment system make it very functional. Up to 10 different size pockets, large carrying capacity. The unique pocket design looks flat from the front, but bellowed side gusset expands to provide secure storage for your duty gear. Rear-zip pockets, Larger front thigh pockets. d) YKK zipper, smooth and reliable. Teflon coating on the rip-stop fabric, breathable and water-resistant.
G3 Rip-Stop Tactical Pants with Knee Pads provide load-bearing capabilities, durability, and comfort far beyond anything else on the market. And with enhanced stitching, a stretchable waistband, you can stay fluid and unhindered when making quick, tactical movements.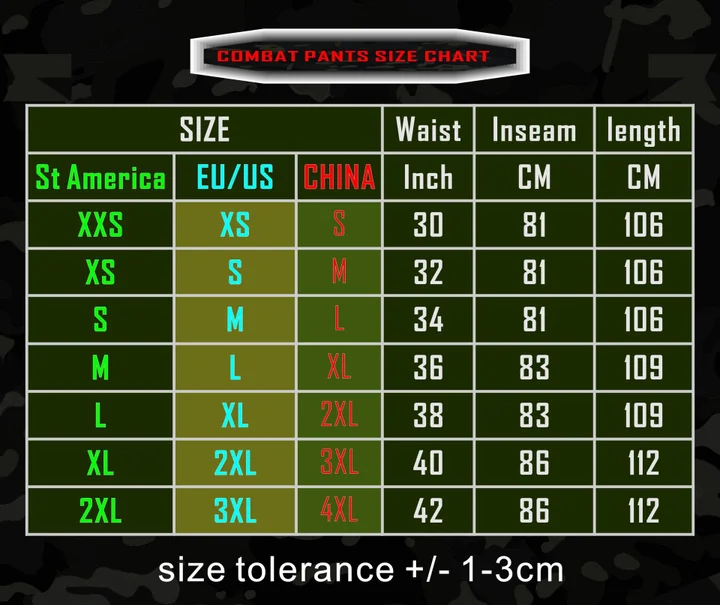 Features
G3 Tactical Pants with Knee Pads

Unique low-profile waist adjust system 

(Extra Comfort)

10 Versatile, Low-Profile Pockets (Each cargo pocket conceals a water bottle/magazine stabilizer/knife/light)
YKK zippers
Front knee adjustable
Hem adjustment
Inseam double sewn stitch
Fabric: 50% Cotton, 50% Polyester(

4-way stretch-woven accents ripstop clothing)

Multiple Color Selections: Multicam, Dark-Multicam, Army green
Unboxing video